Finally got the time to update my blog, almost a week already. in the web now..3.15pm. Did something O.O.T.W during ESL. Danced to the song 18 and life by skid row...that was ok, really like the song wert, good shit man. hah the part where only my group(Zliang,Elian,Shin) messed up was..better.. M U C H BETTER!.. made a fool of ourselves, we were the only ones laughin in front of the class, luckily the others didnt understand what it was all about, all muker bler...bler gila mampus hantu babi hutan bukit kiara. Then came, ......
Eighteen and life you got it,
Eighteen and life you KnoWWOw,
Your Crime is time and it's,
EIIGHTEEEn and life to GoOOoooOo.
o.O best best, luv this song la.
testing pic.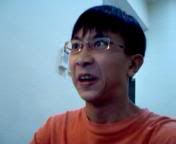 NGGGGG...GHHH!