Today I learned that it is the
Hokkien's Chinese New Year
and wow, the
fireworks
were as if it was the Actual chinese new year. Today i went shopping with my Family! oh i feel so goodie boy now! I bought
Geisha
by Liza Dalby, the first non-japanese to become a geisha! what-a-kahoot!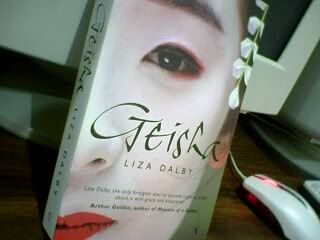 After reading memoirs of a geisha. Man I've been so absorbed by it lately that i really want to know more, and want to be
japanese
!! Just came back from relative's house
Pork N' Fruit Supper
for the Hokkien CNY.....Celebration? Outside on the porch 6 folding plastic tables joined with plates of fruits in an abundance. In the middle of all the sweet rainbow coloured delicacies was a
Roasted Pork
, the whole of it, wrapped in ClingWrap.
"Rm600 more"
"I follow!"
Dealer : "? OK DEAL?"
"come"
"HAH!!!!!!"
*The pool on the centre of the table had already sum up to a total of
Rm1400
and the winner, my grandfather's sister's husband grabbed it all. That round lasted only 8 minutes and a guy just got A thousand four hundred ringgit richer. I couldn't even get that working long shifts at Secret Recipe. That round was done and it is 11.50am 05 January 2006 10 minutes till the Hokkien's Chinese new year. A crowd gathered at the porch to light their incense to pray for whatever they hope for.
I prayed to successfully earn my degree in Monash and get a job with a salary ofRM2k and above At least...and office hours...
no more hard labouring for me please
.
Some guy butchered the roasted pork and was split among the relatives, I had a piece in my hand, which was both
fat and flesh
, fifty-fifty. *Yuck how am I going to eat this???* When I sucked the juice out of it, Man, IT TASTES SO MUCH BETTER THAN
Irish Lamb Stew

,

Kenny Rogers Roasters

,

Greek Lamb Chop

,

Italian Ham
(<--HUH??)
combined
! Of course such indulgence was a Sin, that's why they taste so GOOD!! *SLURRPP* After finishing the last bite with the meat filled with salts and herbs, the washroom is now my sanctuary, i washed my hands, following the 7 proper steps and then because of the oil, washed my face as well, rubbed my eye to hard my
contaxx
on my right eye went
out of position
. It was now half above my..erm..Iris?...Cornea?...Dunno what issit called...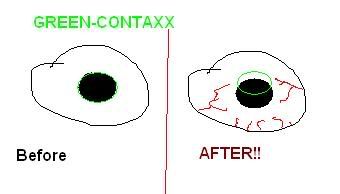 Ouch, even after i removed my lenses, it still felt like a grain of
sand
was
stuck
to my, RETINA??? yaya thats inside the eye...STuck to muh EYEBALL!!! BALL BALL BALL...
PAIn...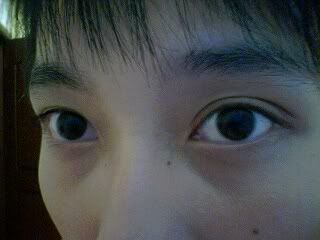 ...
Sleep
....