S8

+

S

TELLAR

M

ORRIS
or however the jack u spell stellar morris.
Today
hor, we went outs with soo the manys the peoples, like you see in the movies the cinemas the theatres the peoples? Its so that
manies
!!
Is got
abouts 10 peoples
or mores or somethings like thats ones.
It is SOOOO THE MANIES
.
And this also hor, brings us many
confuzings
. I become confusing after i sit down the in the
middle of the tables
. Because hor on my left got the
Albert
,
Praevin
,
The Stellar Trio
(
Wen loong
+
Philip
+
Li tat
) and then come to the middle abit, got
daniel yappiez
,
a drain
,
Kumar
and then mememe. To my right,
Sue anne
,
Emily
,
Sean
and
MonaLing
.
You
SEE HOWs
manies
is the
manies I tolds youz justz now?
it IS!
it IS!
IT ISSS!!
THAT MANIES!!
Click here to download the audio file to help you read the passage above.

After sitting in silence to capture the moment, this is what I thought.
Li Tat : kena kutuk by Wenloong and the light bulb(Philips)
Albert : Only follow them laugh coz myself aso dunno what Stellar jokes they talking about.
e.g:
They see a hole shaped by the hand then laugh cock like cock wanna talk.
Praevin : His laugh loud already defeated by the light bulb
Wen Loong : He and his light bulb friend making the most noise. on the west side.
FI LIP : Laughing chimney.
Yapster : Also kena kutuk by the Stellar double(WL and Mentol)
On the Quiet Side,
Adrian : dunno look left or right
Kumar : .....hmmm...I think he emo abit. Suddenly walk off like that and suddenly sits back into his chair jubilantly, with much blobbing like Flubber
Me : Thinking of what to write for this now la
Towards the east,
Emily : Laughing at Sean/Uk constantly
Sue Anne : Same as above
UK : busy rolling his eyes so it wouldnt meet Emily's or Sue Anne's
Sean : Sit in the Pengerusi spot like talking to the whole table liddet.
So much for today.
Besides that,
I HAVE

DISCOVERED

MYSELF
The post before the previous one was very emo-tical, it's emotional la
junduk
(My new word for dumdum)
ARE MEN CAPABLE OF OWNING

BOTH SEX ORGANS/ GENITALS?
ARE BOYsS / TEENS CAPABLE?
I know I am.
I noticed that I got sudden mood swings one,
sometimes downright sad until
tfk
aso no mood.
Sometimes toooo happy until feel like wanna
tfk
but feel guilty, god has reached me maybe.
But from what I see, I THINK I GOT
PMS
.
Why not?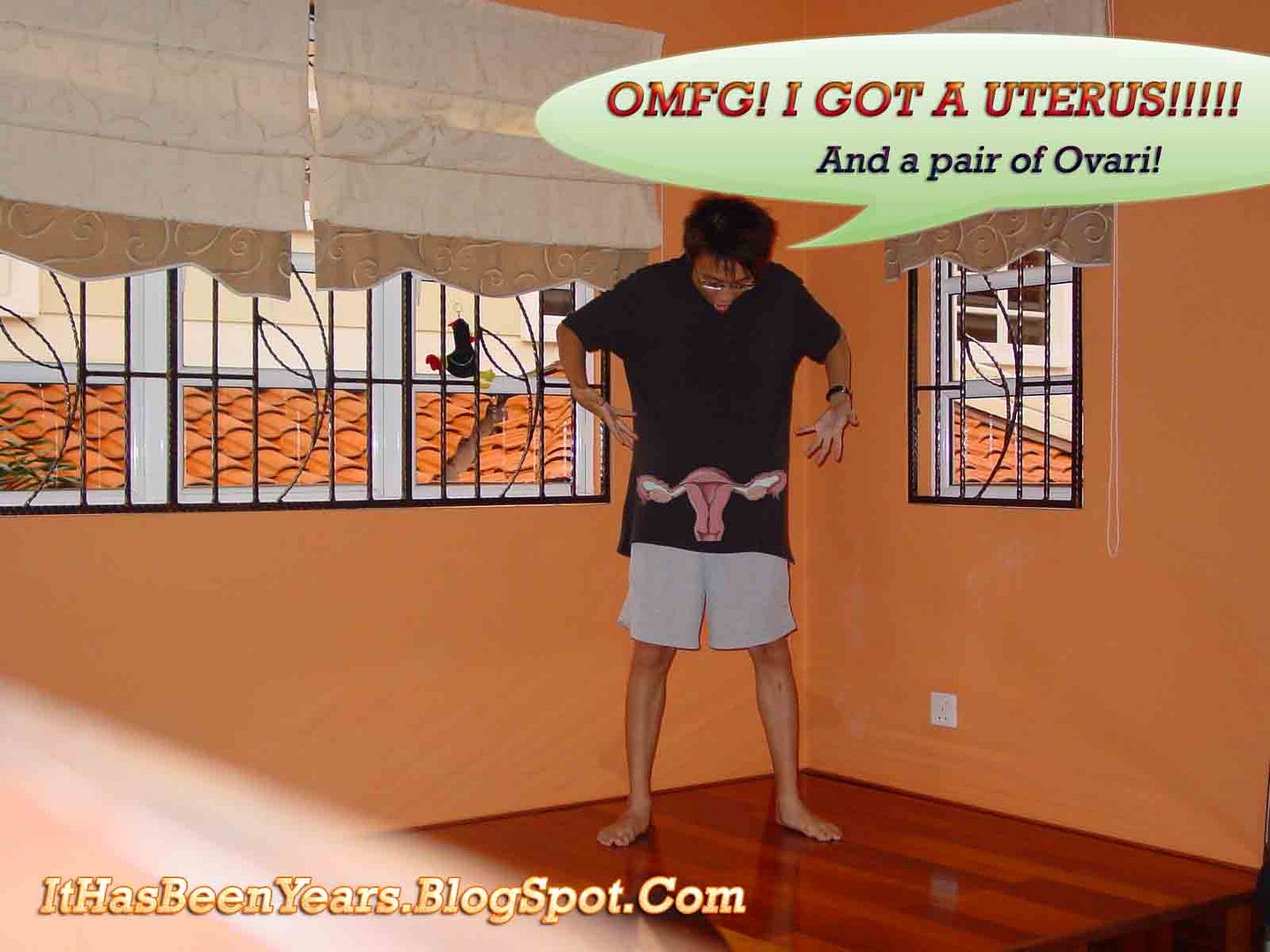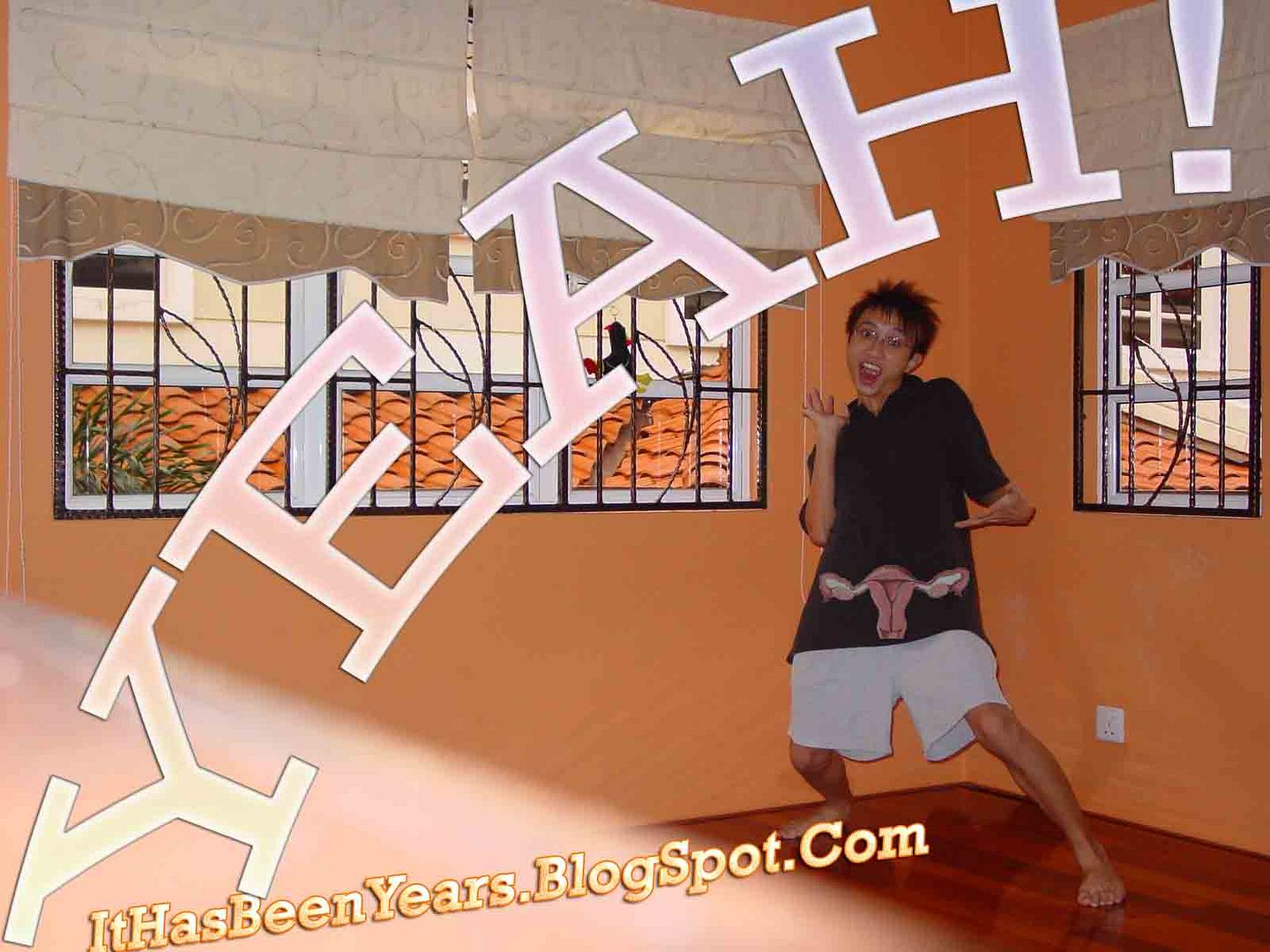 Evidence that I am Bi-Sex-organ
1)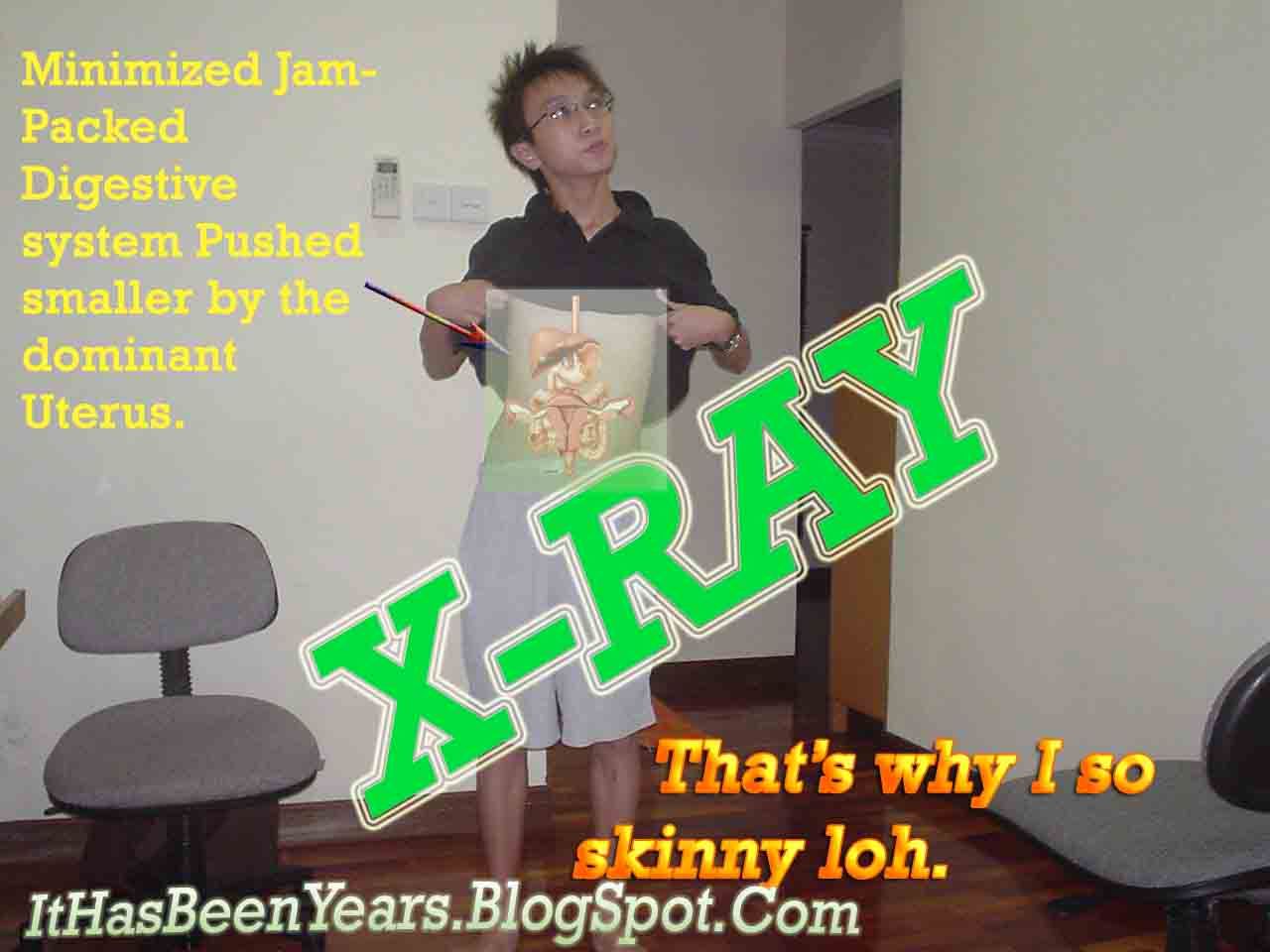 See because my uterus push kao my stomach become super tiny all the food I eat just shit out the next minute, only little is absorb, that's why I so skinny.
Because my
uterus
dam
7 lanjiao big
.
Bigger than my
LANJIAO!
2)
Raging female hormones
in my body
Remember this?
Kenneth TCF -

Ai Ni

GOES PUBLIC!
** WARNING WILL TAKE THIS OUT OF YOU TUBE IN ONE WEEK!**
** DUE TO POTENTIAL THREATS OR SEXUAL HARRASSMENT **
** SO, WATCH IT WHILE YOU CAN!

MUA

HAH

AH

AH

A

*
*
**I feel so powerful*