He says that I'm spending too much time and money buying all these expensive polishes and waxes.
So he decided to challenge me, with some cheap sponges, a brush, polishing cloths and a RM19.90 Turtle Wax car wax.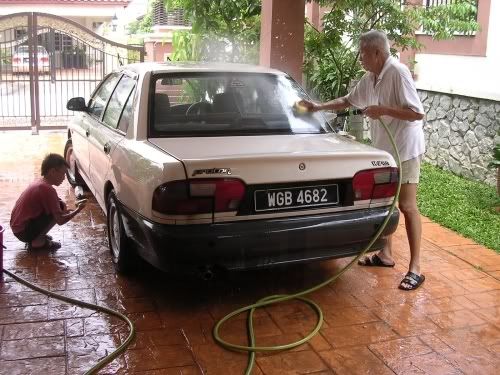 So he started off with washing, and teaching me how to wash , by starting from the top down, and he said, you can wash the tires. And he was using FAB laundry powder detergent to wash the car, wheels, tires and everything, and it didn't get all the brake dust out of the rims.
So I had to get on my knees and help him out, then my bro got interested and asked if he could help.
So I let him do the job.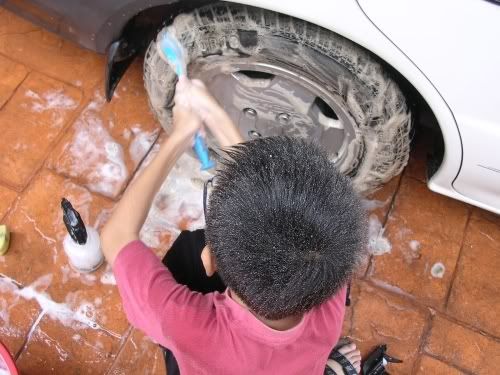 Poor boy kena siram air by my granpa, look at his hair.
This is him, rinsing off the wheels.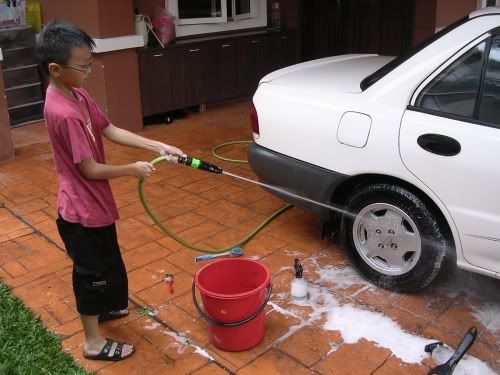 Look at his face, concentrated wei.
So when the car was dried up, my granpa was ready to attack the paint, with his car WAX.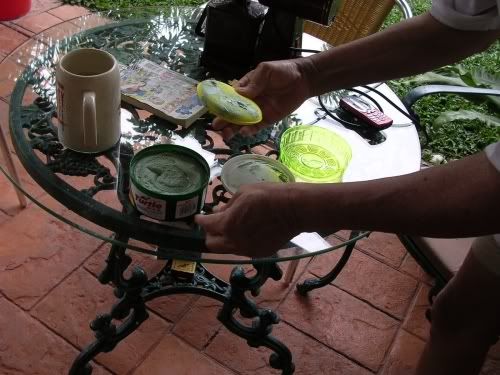 He put on such a thick coat, it didn't do much to the oxidation and dirt on the car. And removing the wax was a pain in the ass.
So I told him
1) you are using a wrong product, that's a wax that is meant to protect, not to clean.
2) You're technique is to rub and polish off dirt, he was just spreading butter over the bread.
Then he challenged me again, he did half of his fender with his Turtle Wax Hard shell finish car wax.
And I did the other half with Meguiar's ColorX
Rm19.90 vs RM55.00
There wasn't much of a difference, his wax did clean the paint when rubbed hard. I kinda conceded and then he was like,
"Only stupid idots like you spend hundreds of dollars when I only spent RM20 to achieve the same results, see(points to the fender) got any difference ? "
"haihhh, that's why these youngsters now adays, only go for the expensive stuff, when the cheap stuff can do the same job."