As the tile says, this detailing thing is getting into ppls blood around me, first my granpa, my little bro and now my dad.
While I was detailing my dad's fren's interior(http://wetshinedetailing.blogspot.com/2006/12/proton-perdana-v6-interior-only.html)
My dad wanted the whole car to look good, not just the instead so he wanted to help.
First i said no, coz he's gonna put swirls in the paint and miss out the fender wells and stuff, but I didn't tell him that of course. Since time was running out(we were going out for dinner), then he wasked me to hand him the brushes and prepare him a bucket with wash solution.
and check him out! haha, first time he ask, I help u wash the car ah,
I said, no! you dunno how.
"Your daddy has been washing cars before you were even born, how can you say daddy dunno"
haha, fine so I let him at it. I borrowed him the brushes and chemicals.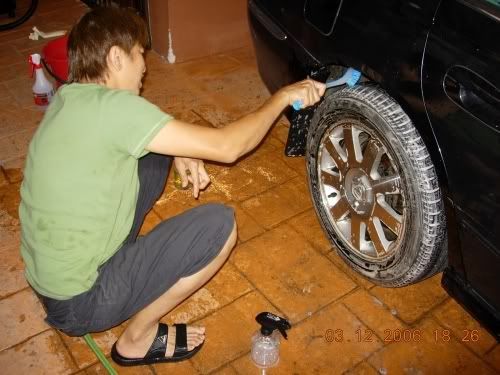 And then, Mr. ULTIMATE TurtleWax Detailer(http://ithasbeenyears.blogspot.com/2006/10/granpa-detailed-his-own-ride.html) came and gave one of his AWESOME advices.
"I tell him using Fab can clean even more better, duwun to listen"
-.-; -.-; -.-; -.-; -.-; -.-; -.-; -.-; -.-; -.-;
anyway, wah my dad wash car damn fast, didnt missed any parts too, even got down on to the bumpers, but of course, instilling lots of swirls into the paint at the same time.
Then he asked got any thing to
cha
(rub/apply) to make it more shiny?
I gave him Meguiar's CleanerWax, showed him how to do it on a panel, and then he did the whole car.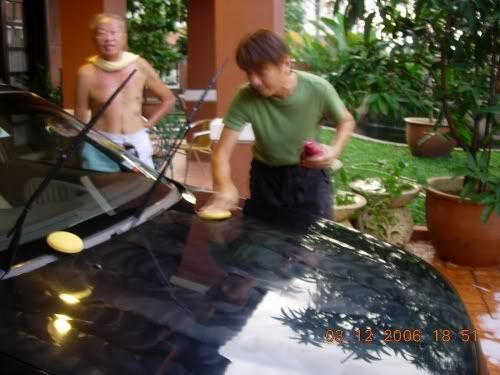 Check out my dad's wax job!!!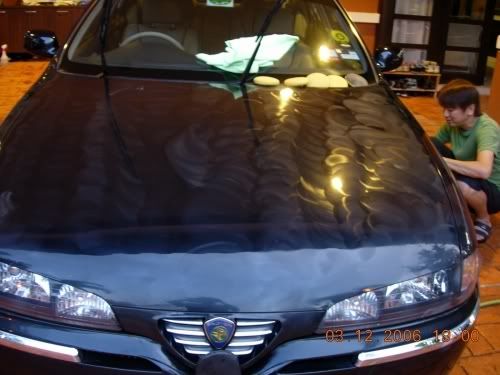 not bad wei, quite uniform....for a 'first-timer'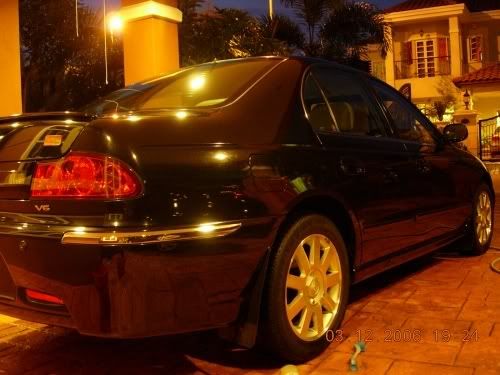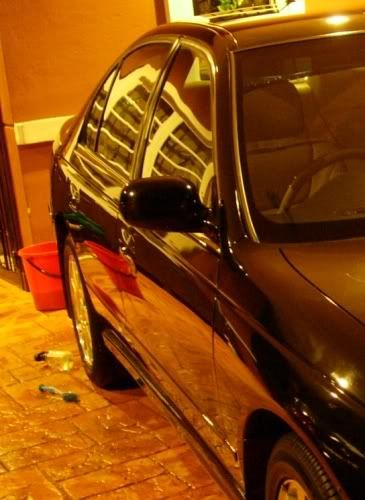 Runs in the family... :)