I actually wanted to register myself, Wet Shine Detailing as a sole proprietorship, so that i'm a registered business.
but that my dad didn't allow me because he wanted to concentrate on my studies.
and of course DON'T wash cars for a living...
Besides that the polishing may make the neighbours complain, although they haven't I think they're at some extent fed up with 6 hours of
MmMmmmMMMMmmMmMmmmMmmMMMM 3 days in a row.
want to see something private?
My detailing record book! just made it, (yeah I didn't do my homework, just read through it)
Okay so let me show you,
I know my book keeping skills are not par with the ACCA accountants
and
my handwriting is like a three-year old's, bare with me, hehe.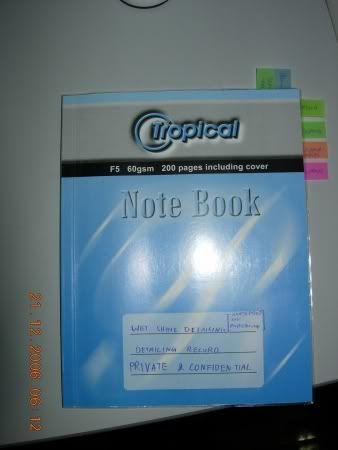 it's for me to keep stuff like
-appointments, so I don't forget whose car to detail when(although it most probably won't be necessary because I don't have that much customers anyway)
-detailing records(whose car I did when and what, So I can remind them when is the next time for a rewx or a maintenance detail)
-contacts( to contact them.... -.-;)
-and most importantly expenses,
So here it is, it's nice to see them all together, let's see, I started at 20th November 2006,
until my latest detail which was 18th December 2006, almost a month.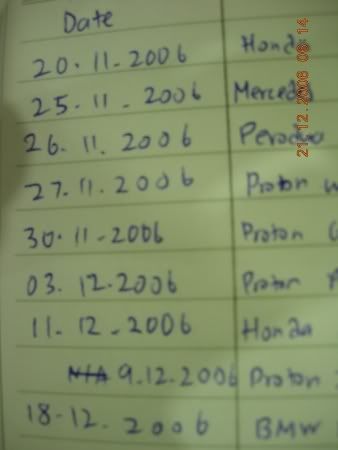 And how much did I made washing cars in a month?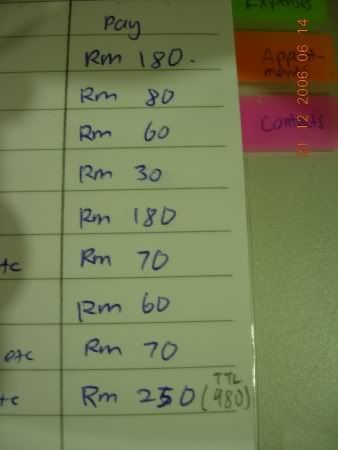 Total=RM980(+rm30, forgot about the extra tip for the perdana v6 interior only job)
so that's RM1010 in total, in a months time. Not bad since my prices are considered DIRT CHEAP. For 180, that would only get you two coats of 'wax and polish', they use Autoglym's Radiant Wax a mild polish with durable wax protection, I don't think that step would get alot of defects out. Don't think they clay too.
That would be about the same, not as much but nearly as ppl who work in offices(office boy and such), or my previous job, a waiter at Secret Recipe.
But this of course have major benefits over the other. hmm let's see.
1. I am my own boss!
2. I can take breaks whenever I want
3. I get to do something I LIKE!
4. I don't have to slave endless hours serving customers and their needs.
5. I don't have to work 5 or 6 days a week.
I likeyy...but this was during my holidays, now school starts and most of the ppl I know has already let me detailed their cars, not many potential customers anymore.
Wanted to adcertise to my neighbours, but dad don't allow coz neighbour can actually file for a complaint for distrupting the peace of the neighbourhood, sigh, so far for bringing my work to a higher level.
But wait, that's not it, let me show you my expenses.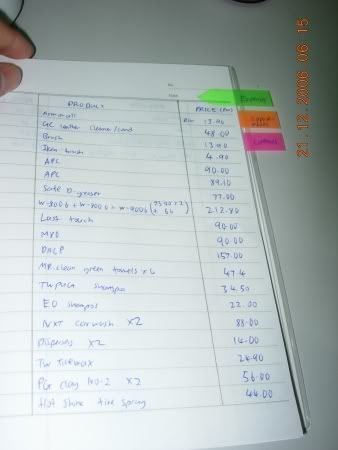 woah a whole list of them!!
and the total?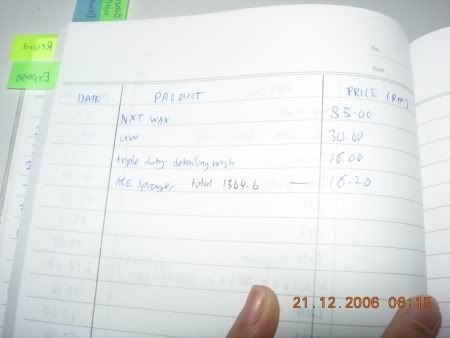 rm1364.60!!
wtf...I couldn't believe that I spent more than 1k on car care products, these are the things that I could recall since I started buying things.
Oh no there's more i didnt include
I think total would be rm1500 or more. And that's not including the RM335 random orbital buffer, my dad sponsored me that one. so not included.
Profit=Income - Expenses.
I'm making a loss!...!... haha.
but considering that it took me that to slowly learn, I think I picked up the detailing bug around august or end of July, ok let's say August.
August, September, October, November.
Took me four months to learn and then 1 month to almost cover back what I spent on...for the four months.
Not bad actually....
quite satisfied now.
My next goal would be to:
short term goal
:
-learn paint touchup(project after my exams, Feb 6-8)
long term goal
:
-Buying,using and mastering the rotary buffer(hah, god knows when, if only I have the money, costs rm800+ this machine)
-After that I want to learn how to compound paint finishes and do some heavy cutting.
super long term goal
:
-do more detailing during my 2nd year holidays(hopefully I don't fail any so I can have four months free)
-save up the cash.
-Open a wet shine detailing centre.
-use my marketing skills(if any, haha) to advertise and provide excellent, superb, and professional service to my customers to beat any average detail shops around, probably not Autodetailer PJ, but I'll give it a shot.
Dream goal:
-Open wet shine detailing centres nationwide and be make the term
wet shine detailing
the first thought of many when ppl they want to shine up their ride.
After that, marry, settle down, have a family and let my centres do the work for me.
Save up, invest in shares and finance my kids future education.
HAH! don't be stupid, u think u can achieve all that by blogging this now and not doing ur tutorial work? BAH! And you think it's so simple? if it is then why can't others do that?
Shut up inner dialogue, now that I have a goal to achieve, I now my objectives and realize that it's more important that I do well in my subjects. I'll give it a try,
Hear dthat to rent a shop is about 6k per month, if I earn enough now and next year end, I could probably get about that amount, I'll open for a month.
one month won't probably be enough to cover it, i'll push it to two months, if still cannot, then abandon plan. at least I tried. But I won't let it happen. Cause I'll perfect my skills from now.
oops time to go to class,
HAVE A SUPER FANTASTIC DAY!