First of all, sorry no pictures.
Being a car freak, the show was fun at the beginning but starts to get boring in the end,
highlights to me were
1) A Putra spitting out huge balls of flames, and made its rear skirting caught fire and the owner had to pour some water over the muffler, lol.
2) The drifting, 180sx some old old cars which I don't know the model, damn that one really set my heart, I just can't stop smiling seeing them go sideways, but then it got boring slowly coz they're all doing the same thing. There's also a rear-wheel drive Proton Perdana
3) Ferrari 355, it was only there to show, but I was early and saw it slowly came in and parking under the canopy, although it doesn't sound as godly as the F430 I've encountered before on the road. IT WAS PURE CAR EXHAUST PORN ORGASMIC!!!! argghh...damn.....seriously was the best sounding thing over there, better than all the woofers and loud muffles. Ferrari...
4) Natalie Fong!!!!!~~~~~~~~ Cuteness, pretty-ness everything, this pic's a bit blur but man I've fallen for her. I know this is materialistic(*very*) but I'm a sucker for pretty faces and I'm in love with her, ooo Natalie~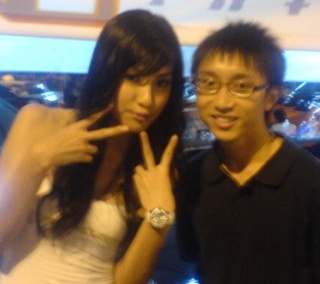 Hopefully my wife won't be someone whom I've materialistically fallen for...else I'll be doomed.
but damn...
Natalie...
Hypertune Gallery - Natalie Fong
Kenny Yeoh - Natalie Fong
Natalie's Blog

I'm such a stalker
I lub you Natalie~