A person with
unlimited
compassion
,
unlimited
patience
,
and unlimited
humility
.
A person who
does not
procrastinate

is not
materialistic

is
wise
.
Current Score
Compassion : 5/10
Patience : 3/10
Humility : 1.5/10
Un-procrastinator : -9999999999/10
Un-materialistic : 7/10
Wisdom : 1/10
Yup un-procrastinator -99999999999. I didn't prepare for one of my papers and didn't prepare for the tutorials during the whole semester for that subject (commercial banking) and skipped that paper cause I wouldn't even know what to write. So I ahve to graduate half a year late. Hah, so much for wanting to do masters. Don't think it's for someone of my caliber.
The thought of 'am I doing what I like' has been in my head off and on for a while. I don't think I really like to be someone who works in a bank. I'm not good with calculation and maths, or numbers.
Things I would love to learn and do is probably cooking, or painting. But it's too late to change now.
Final paper on Monday, I think this semester I'm going to fail two papers, have been slacking the whole semester. Hoping time would rewind and give me a fresh start.
If I can't get my priorities straight and become the un-procrastinator I want to be, no more detailing for me for 2008. This whole semester was almost all about detailing and less about studying, I didn't prioritize, never thought about the consequences of procrastinating a few hours a day, which adds up to... alot of lost time.
Kenneth, when are you going to realise the importance of this?
My dad asked me, "Ken, when are you going to start financing the family? two years from now? 3-4 years from now?"
The thought of it scares me, I wish I don't have to. I don't want to. I don't think I can. What if I can't earn as much as my dad does?
Will I be a disappointment to him?
I wish I was more appreciative of money and be pressured to earn them. I'm a spoiled child.
Sigh.
Current & near future agenda,
- last minute study for final economics paper, multinational trade & investment.
- Then it's detail mum's ride to prepare it for izso's wedding day.
- Then detail his wedding car the Jaguar XK8
- His wedding day.
- Meet up with forummers from Meguiar's Malaysia to 'demo' rotary buffing.
- Summer class to re-take Business Law
- Arrange detail dates with few customers and relatives
- Re-spray test panel to attempt wetsanding to remove orange peel.
- Start 2008 as the most un-procrastinating person I can be!
Gave my engine bay a good cleaning and dressing.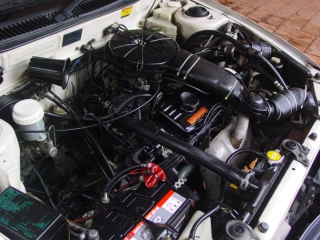 I wish I can be like this bicycle's lamp reflector. Always looking up and not looking down.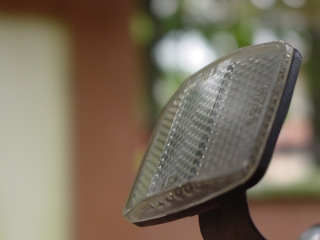 Rusty bike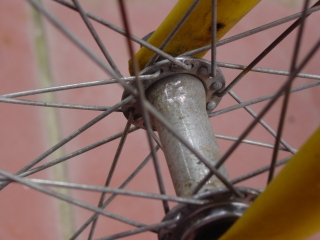 Used to use this to cycle from BU11 to Damansara Jaya to the Cyber Cafe when daddy and mummy banned me from using the PC.
mama, see the sadness in her eyes. She never seems happy nowadays.
Although my grandfather has the wisdom, knowledge, etiquette, etc. He isn't a very loving person.
My grandmother the opposite, loving person, but not much etiquette and can sometimes be very emotional, omg I just realised she passed it down to me.
And my critical nature is from my grandpa. ... noooooooo.
I wish my mama's sons were more, compassionate towards her. Like today she had to go to the dentist, she asked my uncle to fetch her to DU to get it fixed, he wasn't free, which he always is when it comes to fetching my grandma to some place.
"I NOT FREE LAH, DON'T ASK ME TO SEND YOU TO ANYWHERE"
a devout Christian, *scoff*.
So she had to walk out of the house to the main road which was quite far to get a taxi. Midway it rained, and all wet. haih...
My grandfather treats mama the same way to. This afternoon and went into my sister's room, she has a whiteboard where she contengs stuff and writes memos on it. My grandpa wrote there, "I find greater treasure GIVING than receiving"
*critical mode on*
what a hypocrite. Charity begins at home old man! what's the use if you donate to charity homes outside when you treat your wife at home like this.
And also there's this guy, whom made a mistake which made me swore not to ever associate with him again. Then one day I forgave him in my prayers. and today he is still persistent and does something which he is not supposed to do, how can you forgive someone who repeatedly makes the same 'mistake'.
erggh....
*critical mode off*