So I was flipping through today's Star newspaper, and came across an article about singles.
Start Flashback
I'm driving at night alone to Domino's Pizza to buy Pizza(obviously). On the way there I mentally decided to give up on my love-life, it's bad experience one after another. Every time I like someone, it would just turn out bad. And I would hate those moments, even when nothing started.
So I've mentally decided that I wouldn't care, wouldn't give a damn anymore. Just be a bachelor for the rest of my life.

End flashback
The article talks about singles having perks during festive season where they could do what they want, go where they want whenever they want because of the freedom they get, although there are times where they might be lonely. Then came across this,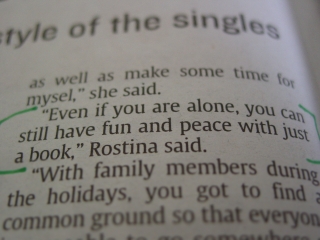 I don't want to spend the rest of my life with a book! You can't bring a book out to the movies, you can't kiss the book, the book does not give you back warmth when you hold it. Noo……
And then below the short article is this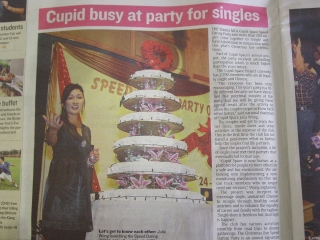 Single men and women gather together for a speed dating thing.
Some of them look so old. Noooooooooo, I don't want to get old and be alone and decide it's time to discover my other half. Which then brings me to a singles gathering so I can hold a random woman's hand, NOOOOOooooo. I don't want to be alone for the rest of my life, yet, my very imperfect self is searching for a very perfect person, which is unrealistic.
You gotta know how to play the game, but that's being fake, if being fake can bring me someone then I don't want that. But if I'm true to myself, the only people I can attract are those with balls and penises. Noooo…. I can see myself in the future.
When I move out of my house, I will buy a bed fit for two, a dining table fit for two, a couch fit for two… but I would sleep on one side of the bed staring at the empty space beside me, imagining, wishing, hoping for the one to be there.
But please don't let it be a book.