I've been reading most of the articles on the first page after a Google search; infatuation vs love.
I realize that I think of all the people I thought I liked, are mere infatuations.
Here's a short table summarizing the facts.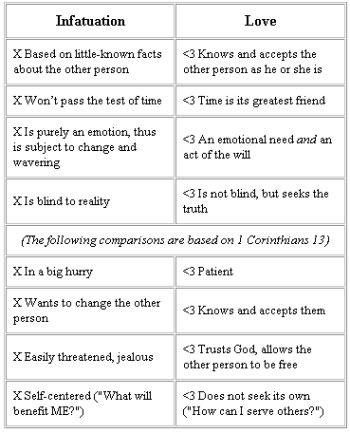 So yeah, guess I'm still waiting... for that someone, for me to love.
btw Arhat month, is tough. I've given in yesterday, I was so frustrated because I didn't have time to study the whole day with my mum, dad, grandmother calling me and my brother and sister calling me to fetch them around...being the eldest brother is not a responsibility. It's an effing full time job.
I got so frustrated that I didn't even bother meditating and gave in to my sensual desires, and watched 2.5 hours of American Idol, the finale and the results show.
Back to meditating by tonight hopefully.
" A Buddha does not pay attention to the beauty of his clothes, the comfort of His bed, or the taste of his food. He does not pay heed to sense pleasures."