Since Arhat week, I have been slacking 'majorly'.
I have been bad tempered and haven't been controlling my mind.
I have been indulging myself in all the music and videos I can see and listen.
*American Idol!*
Tomorrow is Wesak day.
Tonight I will be sleeping on a mattress on the floor and tomorrow is an early breakfast and meditation from 9.00 am to 6.00 pm
Can I do it?
and then, well this is a spontaneous decision but I think I need it with my exams starting on June 6.
Arhat MONTH!
4 weeks straight
"You think I'm scum?!"
Let's see if I can control myself.
As again, no music, no videos, no satisfying my sensual pleasures and desires.
No detailing forum surfing.
Daily meditation
Minimal or no procrastination.
damn I have to give up American Idol and Grey's anatomy for this.
Too extreme? maybe, but for an unfocused, unconcentrated, procrastinating, undisciplined guy like me. Too extreme may not even be enough.
and something I thought about this afternoon, am I a guy?
1) I watch American Idol, I teared when David Archuleta cried on the top 3 results show.
2) I watch Grey's anatomy
3) I don't like clubbing
4) I don't drink or smoke
5) I'm not aggressive (besides driving)
6) I care too much about other people's feelings(well sometimes, or is it just to please them. I found out many people are annoyed by this because they find it fake.)
7) I'm naive
or is it just because I am fake. I try to please people too much sometimes, maybe most of the time.
Arhat month begins tomorrow
19/May/2008 and ends on 19/June/2008
My semester exam begins on 6/June/2008 and ends on 20/June/2008.
Weekly reports to follow.
Let the way of the arhat begin.
LOL I found something funny too because while typing this post the word arhat is underlined in a wavy red line, and as you know, this mean it's not in the Microsoft dictionary
Then I typed the word jesus, appeared in a red wavy line and I right clicked to see if the correct word is jesus (with a capital J), but there's only jess and jests.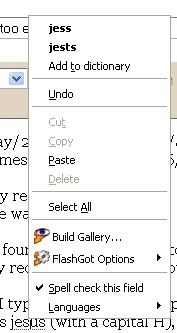 Then I typed the word buddha, also underlined in a red wavy line. But when I right clicked, there is the word Buddha with a capital B.
Then I thought "that's weird". So I googled Bill Gates' religion and found out that he's an aethist! LoL it's probably not on purpose but what a coincidence haha.
ATTENTION: NOT INTENDING to put down any religion or teaching here! so don't get all sensitive on me for my shallow mind alright. THANK YOU